Bendable Tube Thermocouples
Close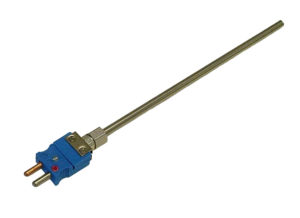 Zoom
MgO insulated metal sheath thermocouples
ANSI calibrated, NIST certified
Available in a variety of materials and cable lengths
REQUEST A QUOTE
Vulcan thermocouples and thermocouple assemblies are available in many variations. Magnesium Oxide (MgO) insulated bendable metal sheath thermocouples have great advantages over the Industrial line of thermocouples that are rigid style construction. The MgO construction is a metal-sheathed, inert oxide insulated thermocouple cable, available in ANSI calibrations with various types of sheath alloys.
The cable can be ordered as complete fabricated assemblies, or in specified lengths. Highest-quality materials are drawn to final size and fully annealed, with single, dual or triple elements. This design offers a moisture-proof, accurate, pressure-resistant, bendable and weldable thermocouple cable.
ANSI Type Calibrations: K, J, T, E, N, S, R, B
Sheath alloys: Inconels, stainless steels, Nicrobell, Hasteloy, platinum, tantalum
Sheath size: 0.020″ dia. up to 0.50″
Hot Junctions: grounded, exposed, and ungrounded
Cold Junctions: quick disconnects standard & miniature, enclosures, process fittings and transitions with lead wire.
Teflon® coated sheaths available as an option
Certifications traceable to NIST, individual and lot wire certifications.
Aerospace, Military & Commercial
Automotive
Foundries: ferrous & non Ferrous
Ceramics, brick kilns
R&D & Universities
Metal Heat Treating, Vacuum and Atmosphere Furnaces
Petrochemical & Chemical Plants
Co-Energy
Medical
Solar
The process environment determines the type of thermocouple used. Temperature, atmosphere, protection, response, accuracies and service life should be considered. Determine your application temperature range and select the thermocouple type, for example: J, K, E, T or N. There are a number of sheath alloys that will withstand the atmospheres and possible corrosives and temperatures. All of our thermocouple MgO cable and finished thermocouple assemblies are tested for adequate insulation resistance. All cable is certified and checked for ANSI limits of error conformance by standard lot sampling in our quality control laboratory, which is certified traceable to the NIST. Finished assembly certified traceable calibration is available at time of order.
| Alloy Type | Sheath | 12" Length Models | 24" Length Models |
| --- | --- | --- | --- |
| J | 316 SS | MAM-1/16-SS-12-J-G | MAM-1/16-SS-18-J-G |
| | | MAM-1/8-SS-12-J-G | MAM-1/8-SS-18-J-G |
| | | MAM-3/16-SS-12-J-G | MAM-3/16-SS-18-J-G |
| | | MAM-1/4-SS-12-J-G | MAM-1/4-SS-18-J-G |
| J | Inconel 600 | MAM-1/16-IN-12-J-G | MAM-1/16-IN-18-J-G |
| | | MAM-1/8-IN-12-J-G | MAM-1/8-IN-18-J-G |
| | | MAM-3/16-IN-12-J-G | MAM-3/16-IN-18-J-G |
| | | MAM-1/4-IN-12-J-G | MAM-1/4-IN-18-J-G |
| K | 316 SS | MAM-1/16-SS-12-K-G | MAM-1/16-SS-18-K-G |
| | | MAM-1/8-SS-12-K-G | MAM-1/8-SS-18-K-G |
| | | MAM-3/16-SS-12-K-G | MAM-3/16-SS-18-K-G |
| | | MAM-1/4-SS-12-K-G | MAM-1/4-SS-18-K-G |
| K | Inconel 600 | MAM-1/16-IN-12-K-G | MAM-1/16-IN-18-K-G |
| | | MAM-1/8-IN-12-K-G | MAM-1/8-IN-18-K-G |
| | | MAM-3/16-IN-12-K-G | MAM-3/16-IN-18-K-G |
| | | MAM-1/4-IN-12-K-G | MAM-1/4-IN-18-K-G |
| E | 316 SS | MAM-1/16-SS-12-E-G | MAM-1/16-SS-18-E-G |
| | | MAM-1/8-SS-12-E-G | MAM-1/8-SS-18-E-G |
| | | MAM-3/16-SS-12-E-G | MAM-3/16-SS-18-E-G |
| | | MAM-1/4-SS-12-E-G | MAM-1/4-SS-18-E-G |
| E | Inconel 600 | MAM-1/16-IN-12-E-G | MAM-1/16-IN-18-E-G |
| | | MAM-1/8-IN-12-E-G | MAM-1/8-IN-18-E-G |
| | | MAM-3/16-IN-12-E-G | MAM-3/16-IN-18-E-G |
| | | MAM-1/4-IN-12-E-G | MAM-1/4-IN-18-E-G |
| T | 316 SS | MAM-1/16-SS-12-T-G | MAM-1/16-SS-18-T-G |
| | | MAM-1/8-SS-12-T-G | MAM-1/8-SS-18-T-G |
| | | MAM-3/16-SS-12-T-G | MAM-3/16-SS-18-T-G |
| | | MAM-1/4-SS-12-T-G | MAM-1/4-SS-18-T-G |
| T | Inconel 600 | MAM-1/16-IN-12-T-G | MAM-1/16-IN-18-T-G |
| | | MAM-1/8-IN-12-T-G | MAM-1/8-IN-18-T-G |
| | | MAM-3/16-IN-12-T-G | MAM-3/16-IN-18-T-G |
| | | MAM-1/4-IN-12-T-G | MAM-1/4-IN-18-T-G |
| N | Inconel 600 | MAM-1/16-IN-12-N-G | MAM-1/16-IN-18-N-G |
| | | MAM-1/8-IN-12-N-G | MAM-1/8-IN-18-N-G |
| | | MAM-3/16-IN-12-N-G | MAM-3/16-IN-18-N-G |
| | | MAM-1/4-IN-12-N-G | MAM-1/4-IN-18-N-G |