Heat Trace and Surface Sensors
Close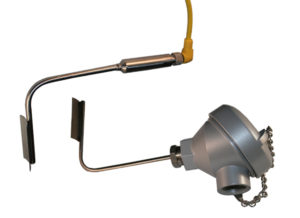 Zoom
Accurate Surface Temperature Measurement of Process Pipes, Tanks, Vessels, and Containers
Models With and Without Integrated Transmitter within Sensor Tube Body
Flat or Curved Heat Transfer Pad for Direct Contact and Quick Response
Optional Terminal Heads and Other Termination Configurations
REQUEST A QUOTE
Offered with and without transmitter, the Vulcan Electric Heat Trace and Surface Temperature Sensors are designed to measure the surface temperature of process pipes, tanks, vessels, and containers. These units incorporate sensor contact pads configured for direct contact to the pipe or other surface for optimum heat transfer and quick response. Vulcan Heat Trace sensors are an ideal choice for liquid or gas pipe distribution systems and surface related measurements.
Integrated Temperature Probe and Transmitters (ITPT models) incorporate RTD sensing and employ a patented construction with the transmitter encapsulated inside the body of the sensing tube. The RTD sensor with integral 4 to 20mA transmitter provides superior accuracy, repeatability and response time, all in one compact unit. The ITPT units are fully programmable. They can be factory calibrated to your precise requirements or with the optional ITPT PKIT-2 programming module and PC based software, recalibration can be done in the field within your specific application.
Models without the integrated transmitter in tube construction are offered with either Thermocouple or RTD sensing options and are available with or without terminal heads. These units are also available with an optional transmitter located in the terminal head. Although not as compact as the ITPT construction, these units offer similar robust construction features with higher temperature range capabilities.
Wide temperature measurement range of -200°C to +600°C (-328°F to +1112°F). Range determined by sensor type. Note: Units with Integrated Temperature Probe and Transmitter (ITPT Models) have a probe temperature range of -50°C to +200°C (-58°F to +392°F)
Sensor options: Thermocouple types J, K, T, & E; RTDs single & dual 100 ohm and 1000 ohms. Note: Units with Integrated Temperature Probe and Transmitter (ITPT Models) incorporate a Platinum RTD 100, Class A, 3-wire sensor type
Flat or curved heat transfer pad for direct sensing contact
Corrosion resistant 316 stainless steel sheath tube available in several diameters: 1/8″, 3/16″, 1/4″, 3/8″ and 1/2″
Units with Integrated Temperature Probe and Transmitter (ITPT models):
Microprocessor based linearized 4-20 mA transmitter hermetically sealed within the sensor tube
Operating Temperature Range: Transmitter section of tube: Housing -40°C to +80°C (-40 to 176F); Probe -50°C to +200°C (-58°F to +392°F)
Completely self-contained and tamperproof
Variety of terminations such as the M12 male receptacle, Teflon leads, armor or stainless steel over-braid
Standard Factory calibration accuracy is ±0.25°C (±0.45°F) and 0.4 % of span
RTD sensor constructions utilize a Platinum RTD 100, Class A, 3-wire
Available optional Field Programming with PC based interface module and ITPT Pkit-2 software
Economical and easy installation
Compact Size —The transition section on the ITPT units is only 2″ long and 0.64″ Diameter
Standard 1/4″ probe diameter , Additional diameters available 1/8″, 3/16″, 1/4″, 3/8″, 1/2″
Optional adjustable compression fitting
Standard probe lengths: 6″, 9″, and 12″; many length options
Electrical connection: Standard is M12 male receptacle with other options available
Protection: Meets NEMA 6P, IP67 (IEC 529)
High Accuracy: ±.10°C (±.18°F) + 0.10% of calibrated span with two-point calibration
Power Supply: 10-30 VDC polarity protected
Concentrated Solar Power (CSP)
Food and Beverage Processing
Pharmaceutical & Medical Gas Supply Distribution
Chemical and Petrochemical Plants
Semiconductor Gas Supply Distribution
Energy Management
Water Treatment Facilities
Hydraulic Systems
Mining & Mineral
Sludge and Wastewater
Heat Trace and Surface Sensors -Integrated Temperature Probe and Transmitter (ITPT series)
Heat Trace and Surface Sensors - Integrated Temperature Probe and Transmitter (ITPT series)