Enclosure Heaters
Close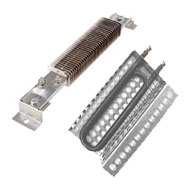 Zoom
Provide controlled heat in confined spaces
Finned and shrouded configurations available
For freeze protection, condensation control, warming and drying
REQUEST A QUOTE
Vulcan Enclosure Heaters are used in enclosures and cabinets where temperature control is required. They are an excellent choice in confined spaces for the prevention of condensation build-up or freeze protection. The fins on finned strip models are mechanically attached to the heater sheath for maximum heat dissipation and performance. Shroud models include a corrosion resistant tubular heater with perforated cover.
High-temperature corrosion-resistant heater sheath
Premium grade electrical insulating materials
High-temperature alloy resistance wire
Finned models include nickel-plated steel fins and low profile brackets.
Shroud models include perforated plate steel cover over heater tube.
Cabinet freeze protection
Condensation control
Panel warming
Warming ovens
Drying chambers
Switch gear
ATM machines
Signal boxes
ENCLOSURE HEATERS – TYPE E-OSF
| Catalog Number | OverallLength (in.) | OverallLength (mm) | Watts | Volts | Approx. Weight (lbs) | Approx. Weight (kg) |
| --- | --- | --- | --- | --- | --- | --- |
| E-OSF-1510-200A | 12 1/8 | 308 | 200 | 120 | 2.8 | 1.2 |
| E-OSF-1510-200B | 12 1/8 | 308 | 200 | 240 | 2.8 | 1.2 |
| E-OSF-1514-350A | 15 5/8 | 396.9 | 350 | 120 | 3.3 | 1.4 |
| E-OSF-1514-350B | 15 5/8 | 396.9 | 350 | 240 | 3.3 | 1.4 |
| E-OSF-1517-450A | 19 1/2 | 495.3 | 450 | 120 | 4 | 1.7 |
| E-OSF-1517-450B | 19 1/2 | 495.3 | 450 | 240 | 4 | 1.7 |
| E-OSF-1523-700A | 25 3/8 | 644.5 | 700 | 120 | 4.6 | 2 |
| E-OSF-1523-700B | 25 3/8 | 644.5 | 700 | 240 | 4.6 | 2 |
Construction Details:
Heater Tube:
Stainless steel rectangular tube
Fins:
Nickel plated steel heat dissipating fins
Mounting:
Right angle brackets elevate heater off mounting surface 5/16 in (7.9 mm) dia. mounting holes each endMounting dimension 3/4 in (19 mm) less than overall length Low profile height of approx. 1-7/8 in (48 mm)Width approximately same as height
Termination:
#10-32 screw terminals
ENCLOSURE HEATERS – TYPE E-TUB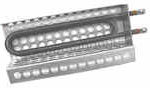 | Catalog Number | ShroudLength (in.) | ShroudLength (mm) | Watts | Volts | Approx.Weight (lbs) | Approx.Weight (kg) |
| --- | --- | --- | --- | --- | --- | --- |
| E-TUB-100A | 7 | 177.8 | 100 | 120 | 1.5 | 0.7 |
| E-TUB-100B | 7 | 177.8 | 100 | 240 | 1.5 | 0.7 |
| E-TUB-150A | 7 | 177.8 | 150 | 120 | 1.5 | 0.7 |
| E-TUB-150B | 7 | 177.8 | 150 | 240 | 1.5 | 0.7 |
| E-TUB-250A | 7 | 177.8 | 250 | 120 | 1.5 | 0.7 |
| E-TUB-250B | 7 | 177.8 | 250 | 240 | 1.5 | 0.7 |
| E-TUB-300A | 7 | 177.8 | 300 | 120 | 1.5 | 0.7 |
| E-TUB-300B | 7 | 177.8 | 300 | 240 | 1.5 | 0.7 |
| E-TUB-375A | 7 | 177.8 | 375 | 120 | 1.5 | 0.7 |
| E-TUB-375B | 7 | 177.8 | 375 | 240 | 1.5 | 0.7 |
Construction Details:
Heater Tube:
.315″ diameter high temperature, corrosion resistant sheath
Shroud:
Perforated plated steel (7″ long x 3-1/2″ x 1-1/2″ overall)
Mounting:
Multiple 0.375″ holes in shroud simplify installation Repetitve hole spacing of 1/2″ center to center
Termination:
#10-32 screw tab terminals with insulators
Common Options:
Custom wattages and voltages
Special termination including epoxy potted leads, quick connects
Terminal box over heater ends
Terminal box over heater ends
Thermostat control and over temperature
Enclosure Heater Options
| | |
| --- | --- |
| Option Code | Description |
| S |  Moisture Resistant Construction |
| LE |  Leads out End |
| PR |  Potted Right Angle Leads ( Finned Models ) |
| FR |  Flex Conduit over Right Angle Leads ( Finned Models ) |
| BR |  Stainless Braid over Right Angle Leads ( Finned Models ) |
| WX |  Special Wattage |
| VX |  Special Voltage |
| HX |  Special Heater Length ( Finned Models ) |
| AF |  Stainless Steel Fins ( Finned Models ) |