Temperature Probes with Gauge
Close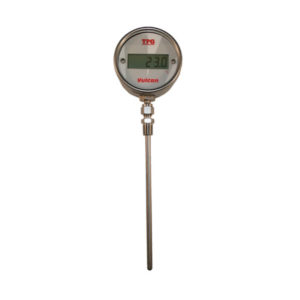 Zoom
Large 4 Digit LCD Display Available in Degrees C or F (also available with LED display)
Long Life Lithium Battery
High Accuracy Microprocessor Based
316 Stainless Steel Construction
REQUEST A QUOTE
The Vulcan Electric Temperature Probe and Gauge construction (TPG model series) is an excellent choice for applications requiring a visual indication of temperature measurement without line voltage input or other interconnecting wires. The TPG sensor assembly features a rugged 316L stainless steel enclosure and probe that are designed specifically for protection against moisture and dust penetration. The TPG is frequently used as a direct replacement for Bi-Metal or Liquid Bulb and Glass Thermometers and are appropriate for mercury replacement programs. The design provides an accurate, stable and dependable battery powered digital thermometer for many OEM and industrial applications.
The temperature sensor construction employs a type Pt-1000 RTD element with standard accuracy to DIN IEC 60751 Class A. All units are factory calibrated for maximum accuracy. The 4-digit 1/2″ (12.7mm) LCD display can be factory set in units of °C or °F. A tenth of a degree resolution removes the guesswork out of reading dials and mercury columns.
The units may be ordered with 1/4″ or 3/8″ standard diameter rigid probes, however, other diameters and material are available.
Measurement Temperature Ranges from -50°C to 200°C (-58°F to 392°F) or -200°C to 600°C (-328°F to 1112°F) depending on model with a display ambient temperature range of 0°C to 50°C (+32°F to 122°F)
Large 4-digit LCD display (LED models available)
Lithium battery powered 3.6 VDC, life 5 years minimum
NEMA 4X housing construction
Display in degree C or F (specify at time of order)
All stainless steel 316L construction
Pt-1000 Ohm RTD Class A element for temperature sensing with standard accuracy to DIN IEC 60751
Self-Diagnostic circuitry with error indication
Resolution 1/10 of a degree
High accuracy Microprocessor based
Programming and calibration option available
Low battery indication
Pharmaceutical
Food Preparation
Chemical and Petrochemical Plants
Utilities and Municipal
Refineries
Paper Mills
Hydraulics
Replacement of Bi-metal, Liquid bulb and Glass Thermometers